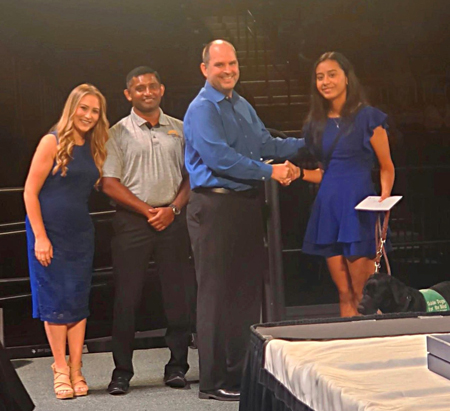 The field of healthcare is one we can all agree is ever changing and evolving. As we considered the past two years of effort and courageous dedication brought forth by medical professionals across the world, we were ignited with inspiration within our organization to award those pursuing the field of medicine. It is in that spirit that the AOSM Future Medical Professionals Scholarship was created, and for the first year in 2022, was awarded to a graduating senior in the community.
Of the six districts invited to participate, we received dozens of applications. We were incredibly moved by their personal stories, as well as the volunteer efforts by our applicants in the community. It is truly inspiring to realize the extent of depth of character that exists in the youth of our great community.
While we received such incredible essays in response to this initiative, there was one that stood out to us due to the applicant's personal story, volunteer work with organizations here in Houston, and her incredible perseverance. It is with great pleasure that we announce the recipient of our 1st Annual AOSM Future Medical Professionals Scholarship, Ms. Hailey Perez of Cypress Fairbanks ISD and Langham Creek High School.
At the event, the scholarship award was distributed by Dr. Drew Fehsenfeld, our Managing Partner and Sports/Trauma Surgeon here at Advanced Orthopaedics & Sports Medicine. Also in attendance was Joseph Mathews, Practice Administrator, and Jade King, Marketing Manager.
We are hopeful to reopen this scholarship opportunity for the 2022-2023 school year in Fall of 2022, and we look forward to continuing this tradition for many years to come.